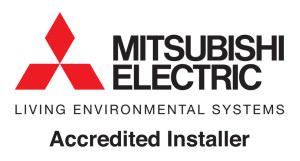 Electrasolar are pleased to have been approved by Mitsubishi for the installation of their air source heat pumps.
As an accredited installer, offering Mitsubishi air source heat source pumps alongside our ground source heat pumps and Solar PV solutions allows us to recommend and install the best value and most environmentally friendly power source for your home.
Get in touch to find out how a heat pump could cut your heating costs and greenhouse gas emissions.